---
Our Creative Hand Shape Pendant & Wall Sconce are made of solid Brass, imported Spainish Marble, and  hand-blown glass ball. It is suitable for lounge,reading room,dining room, kitchen island, office and bedroom.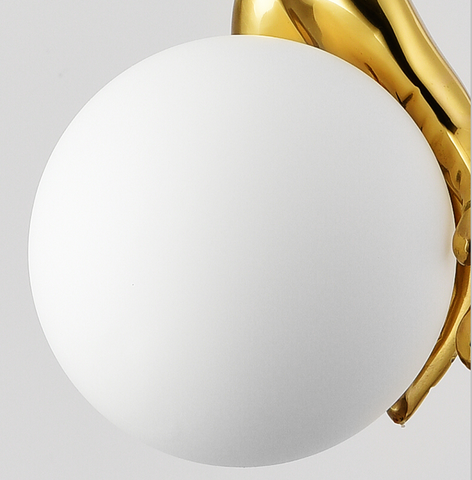 Glass Pendant Light/ Wall sconce lampshade
High-quality glass lampshade, elegant and simple, even light transmission, romantic 
atmosphere. The glass lampshade, which is blown by hand, is round and full, with a long- line texture of creamy white tone, diffuses even soft light, creating a comfortable light feeling.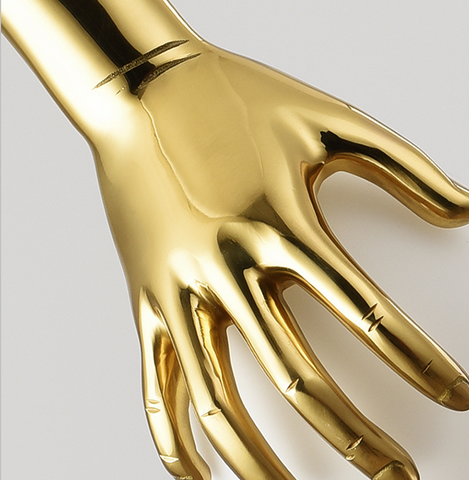 H65 all copper lamp body
It is made of thick and sturdy H65 all-copper material, anti-rust and anti-corrosion, 
bright color, long-term use as new. Feel the warmness and delicateness of copper. The 
copper lamp body after fine polishing and grinding treatment presents a warm and delicate 
texture.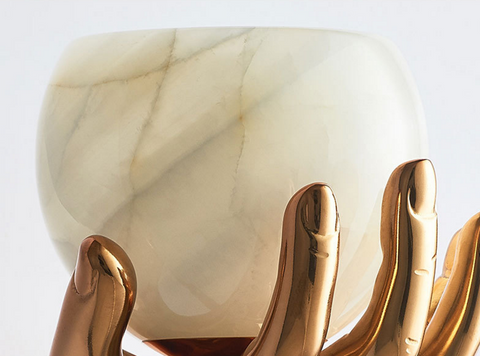 Semi-sphere marble wall lamp
Strictly selected natural imported marble, smooth as greasy, the texture presents a natural 
state, with the feeling of white space, and the feeling of oil painting, each one is 
special
Look at nature from an artistic perspective, let natural elements merge with the designer's 
creativity, and create an exquisite work of art that can move us to a dreamlike world in an 
instant, and we are such dreammakers.
Item NO.: PL5897
Dimension:   
Brass Hand without Glass Ball: W 15cm x H 26cm / ∅5.9'' x H10.2''
Brass Hand with Glass Ball: W 15cm x H 26cm / ∅5.9'' x H10.2''
Brass Wall Sconce A  with Glass Ball: W 15cm x H 24cm / ∅5.9'' x H9.4''
Brass Wall Sconce A  with Semi-sphere Marble Shade: W 15cm x H 24cm / ∅5.9'' x H9.4''
Brass Wall Sconce B with Glass Ball: W 15cm x H 24cm / ∅5.9'' x H9.4''
Brass Wall Sconce B with

 

Semi-sphere Marble Shade

: W 15cm x H 24cm / ∅5.9'' x H9.4''
Finish: Brass
Material: Solid

 

Brass/ Marble

 

/ Glass
Lamp Source :G9/G4(NOT included)
Power:7W Max
Lighting Area: 5-10 Squre meters
Process: Polishing/ Cutting / Hand-Blown
We provide 150cm / 59″ wires . Can be extended upon request
We can provide OEM service and welcome your customized product order and self -designed drawings.
Made in China
We ship to world wide, so don't worry and just rest assure to place the order. If you want to see the real lamp photos,please just feel free to contact with us at info@belecome.com
Creative Brass Hand Shape Pendant | Marble Wall Sconce can use to:
USA  110volt. This light is  certified
EU / UK  220~240volt. This light is  certified
AU / NZ 220~240volt  certified